Ultimate Travel Resources: Your One-Stop Guide to Plan Memorable Adventures
We have travelled for over a decade together and probably made more mistakes than we care to admit.  Good Travel Resources are invaluable.  To help you make travel planning a bit easier, we put together this page of our favorite travel resources.
We personally use everyone of these companies when planning our travels.  If we do not use them, we would not recommend them.
Kiwi.com is a company that changes the travel industry! Kiwi is a pioneer in virtual interlining (connecting flights from airlines that do not codeshare). With Kiwi's unique algorithm, Kiwi is able to create combinations of flight, train, and bus tickets and offer them in a single itinerary.
Moreover, Kiwi's friendly design helps users easily navigate through the site and create the best possible combination of travel options. With an extensive database of low-cost flights and traditional airlines, an interactive map, and more, you can use Kiwi.com to find great fares!
We have just started to use this site. 
Trip.com provides one-stop travel booking services in 20 languages through the website and mobile app. 
With more than 1.2 million hotels in 200 countries and regions, Trip.com has built an extensive hotel network to give the customers a fantastic choice of accommodations. Trip.com far-reaching flight network has over 2 million individual flight routes that connect more than 5,000 cities around the globe. 
This is our first stop when planning a trip.  We try to find the cheapest flights available.  Skyscanner price-checks with 1,200 travel companies, so you don't have to. Sign up for Price Alerts and they will tell you as soon as fares change on a flight you like. Then you can decide whether to book – or not.
Skyscanner really has made our travel so much easier and less expensive.  Though mostly used for flights, we now are using them more and more for Rental Cars and sometimes Accommodations.  We search different dates and airports to find the cheapest flights and rental cars possible.
Accommodations & Car Rental
We always start looking for accommodations with Booking.com.  Booking.com is available in 43 languages and offers more than 28 million reported accommodation listings, including over 6.6 million homes, apartments, and other unique places to stay. Wherever travelers want to go, Booking.com makes it easy and provides them with 24/7 customer support.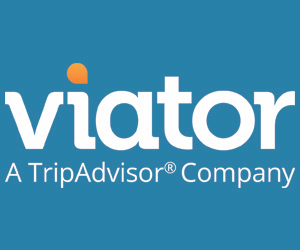 If you are looking for any tours or guides, Viator is the place to look.  We have used them to find guides in Egypt, Italy and other places around the world.
Viator is one of the leading resources for researching, finding and booking the best travel experiences worldwide.  From traditional tours to once-in-a-lifetime experiences, Viator has something for every kind of traveler.